One of the first decisions you need to make after getting engaged is when to actually tie the knot. Each wedding comes with its own set of pros and cons; here's what you need to know before sending out those save-the-dates.
The Pros and Cons of Each Wedding Season: Spring Edition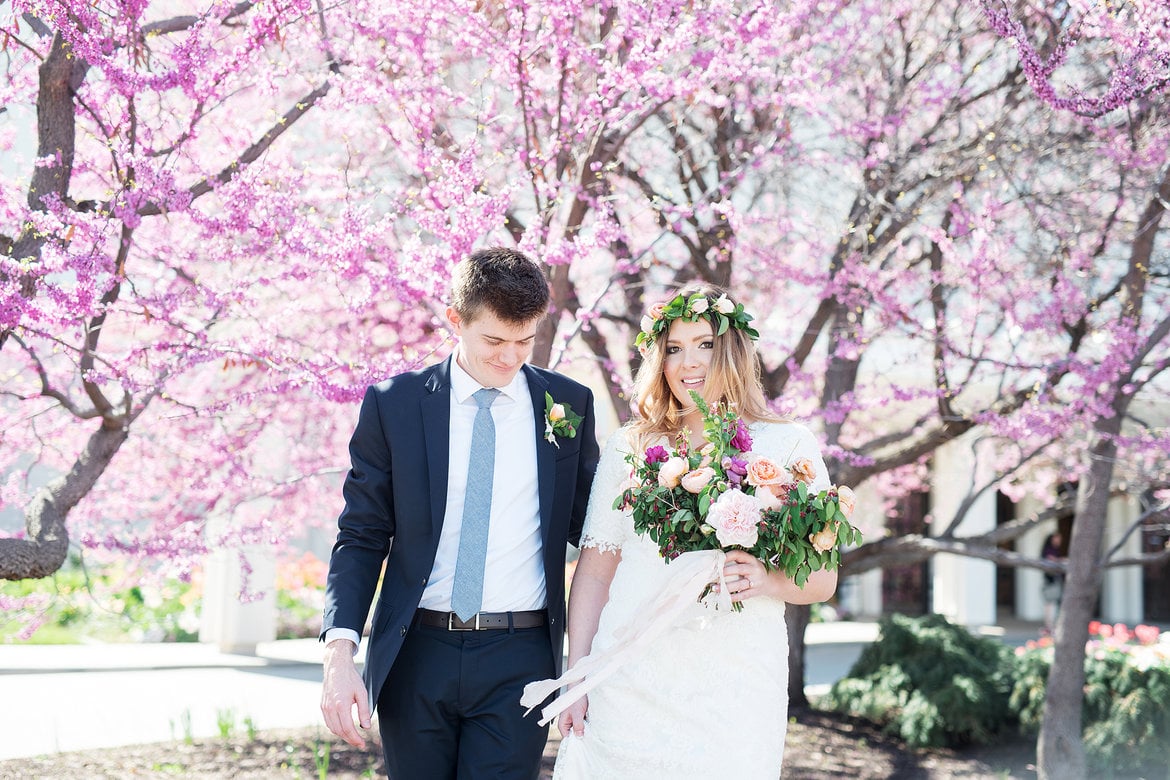 Photo Credit: Kristina Curtis
Pros:
1. The season's natural beauty is so romantic. "There's nothing prettier than a tree full of cherry blossoms, spring associated floral, pastel colors and that soft romantic pop of color that nature bursts with at this time of the year," says Leo.
2. If you prefer a larger wedding party in all aspects, spring is a smart and safe time of the year. Friends aren't quite taking trips left or right, and you aren't competing with any major holidays. This allows for you to send out your invites a little later, if needed, and you can still expect lots of "yes" replies.
3. You don't have any weather-related restrictions when it comes to selecting your gown. If you want to wear sleeves, you can without overheating. You've always imagined yourself going sleeveless? Do it. Whatever style you prefer can be the style to go with a spring wedding.
4. If your dream color palette has always been soft, light, and neutral colors, then you are in for a treat. All accents of the day will be matched with blossoms and all things blooming. This creates not only a beautiful backdrop for your photos, but you can also mix light colors if you like rather than committing to just one or two wedding colors. The more colors the merrier in the spring!
5. Lighting is everything when the biggest day of your life is being photographed. Spring showers may bring May flowers, but also brings cloud coverage, which is ideal for flawless photos.
Photo Credit: Kristina Curtis
Cons:
1. Location makes a difference, but as of late, it seems that every area of the country is just as unpredictable in the spring as the rest. If you want a controlled and dependable environment in terms of the forecast, you're choosing to go with the gamble season. You may have been dreaming of your cherry blossomed-day radiating in the sunlight ever since you sent out your save the date, only to be soaked in raindrops or shivering in snow.
2. You might be able to withstand some spring chills by running inside to warm up as needed, but will your nose, eyes and ears be able to tolerate allergy season? This can drastically impact you and your groom for photos if your eyes are at all irritated or if you have that runny nose you just can't stop. It's also important to consider this for your bridal party members and even guests if any part of the day is planned to be outside.
3. Depending upon your venue preference, an indoor ceremony and reception is a safer bet with the unknown weather woes that could come. If an outdoor floral backdrop is what you have your heart set on, wait those extra couple of months, and you will be golden to have the day you've envisioned.
4. You won't be the only couple holding out through the winter and planning for a spring wedding — allowing vendors to up their prices (supply and demand!). If you're working with a tighter budget and want to make every penny count, winter could be looking like your perfect wedding wonderland.
5. You may not be able to book your favorite vendors. In addition to price surges for every detail you need to book for the day, if you don't have a long engagement to book your vendors far out, the photographer and florist you're set on could already be booked for your day and you'll be left scrambling to find your second preference. Save yourself the stress if you have a shorter engagement!